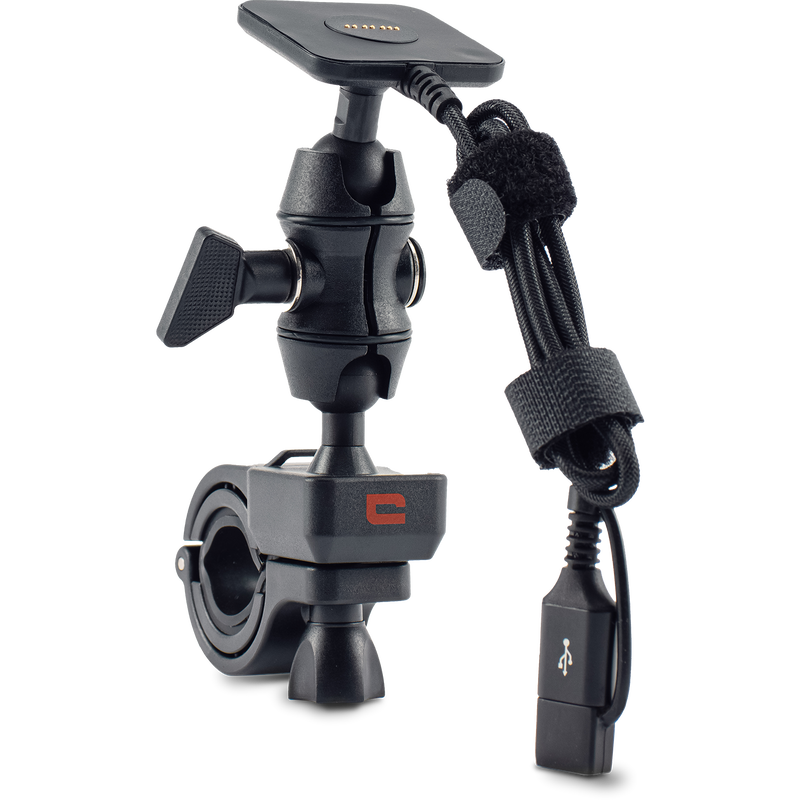 The charger that motorcyclists have been waiting for!
Designed for bikers, the X-RIDE is the accessory awaited by motorbike fanatics. Using X-LINK™ technology, this mount allows the rider to attach the CROSSCALL smartphone to the bike's handlebars or wing mirror and use the phone as a GPS or camera while it recharges. With its Glove Touch technology, CROSSCALL telephones allow users to use the touch screen when they are at a standstill. In short, the X-RIDE provides the user with ease of use and practicality: two essential specifications for bikers.
Read all
Motorbike Attachment/2.4 A Charging Kit
Handlebar or rear view mirror
Secure attachment - IP66 waterproof
FREE SHIPPING
FROM 149€ PURCHASE
(WITHIN 72 HOURS OF OPENING)
PAYMENT
SECURISED
GUARANTEE 1 YEAR
REPAIRED IN YOUR COUNTRY
Recharge your smartphone while riding via the USB cable integrated into the magnetic X-LINKTM mount, which allows the X-RIDE to be connected to your vehicle's USB charging socket.
Tilting and rotating, the X-RIDE's twin ball joint allows you to select the perfect position (portrait/landscape) for your phone, depending on your bike and your use.
The X-RIDE has 2 mounting systems: a wing mirror mount (0-10 mm) and a handlebar mount that can be adapted to various diameters. (22-34 mm)
With the X-BLOCKER safety system, essential for this accessory, the smartphone is fixed onto the X-RIDE in the best way possible and extremely securely, even at high speed or vibrations.
CHARGING
RIDE AND RECHARGE
Use your X-RIDE to charge your phone while driving. Thanks to the X-LINKTM system that provides up to 2.4A power, you can quickly recharge your phone even on short trips. The USB cable directly integrated on the X-LINKTM magnetic holder allows you to connect the X-RIDE to the USB charging socket on your two-wheeler (not included). A velcro system also allows the driver to organise the cables to avoid being disturbed while driving.
360° ROTATION
ROTATE YOUR X-RIDE TO INFINITY
Choose the smartphone orientation that suits you best. Thanks to the X-RIDE's twin ball joint, tilt and rotate your telephone as you see fit, whether it is installed on your handlebars or your wing mirror.
COMPLETE FIXING KIT
PLACE YOUR X-RIDE AS YOU WANT
Needs and uses vary from driver to driver. That's why the X-RIDE has been designed with two mounting systems to attach to your handlebars or to the base of your rear view mirror. For optimal stability of the handlebar attachment, a silicone strap limits vibrations.
X-BLOCKER MOUNT
FIRMLY ATTACHED
Perfectly suited to your smartphone model, the X-BLOCKER clips to the rear of your smartphone and transforms the X-RIDE into a fully secure system that is firmly attached. A safety cord is also provided, perfect for uneven ground and in the case of hard acceleration or braking.