A BRAND BORN ON A STORMY DAY
I always wanted Crosscall to be a team effort. And I truly believe that is what it's been, what it is and what it will always be. I remember it was on a stormy day, over 12 years ago, on one of my trips out to sea, the weather suddenly took a turn for the worse and seawater got in my phone. It stopped working.
Generally, personal watercraft do not have radio equipment so if your mobile stops working, you are essentially cut off from the world with no way of signalling your position or calling for help. It's a scary situation most people would rather avoid. Luckily, I ended up making it back to dry land. Back on shore, soaking wet, I could only think of one thing: designing mobile phones suitable for use even the most aggressive environments, capable of meeting people's needs, and renowned for their durability. I didn't know it at that point, but Crosscall had just been born!

Rising to the challenge
In the current economic system, entrepreneurship is no easy feat. When I first started to talk about my idea of creating a phone brand, some people found it amusing that I seriously thought I could challenge the multinationals who were already vying for a monopoly.
And convincing industry players and users that having more durable and resistant products would make a real difference to everyday lives didn't happen overnight. But where there's a will, there's a way.
Over the years, men and women from a variety of careers and backgrounds have joined our endeavour. Gradually, a tight-knit team was formed and Crosscall had all the skills it needed to rise to the challenge ahead. We started by creating our own industrial model and laying the foundations for technology of our own. Step by step, year after year, we established ourselves as a credible alternative among major operators and retailers.

Sustainability, our raison d'être
While it wasn't the case when we first started out, in the current climate, designing more sustainable and ethical products is a natural choice, and one likely to be mandatory in the future. Times are changing; something we should all embrace. But make no mistake, this can only be achieved if we change our entire approach to telephony.
It means completely rejecting a model focused on technological one-upmanship, instead prioritising our users' needs and the consideration of all stakeholders in our value chain. It isn't just a way to stand out; it is the very essence of our commitment.
Having a different approach to things has been the key to our success and has led to tremendous growth. So much so that we have had to move our headquarters four times to be able to accommodate new employees. Since marketing our very first phones, we have now sold more than 3 million devices and are established in 16 countries. Our primary goal, when Crosscall first began, was to make durability accessible to the general public, but we are also extremely proud to have been chosen by SNCF, the French Police, the Gendarmerie and even hospitals to kit out their staff, for conditions of use that truly put the equipment to the test. Crosscall has grown into an Intermediate-Sized Enterprise (ETI in France) with almost 200 employees. It has held several fundraising rounds, while ensuring that its capital remains 100% French and that its employees always have a stake.
True to the brand's DNA, we recently decided to guarantee our products for three whole years, a unique guarantee in the telecommunications industry. In line with new regulations requiring manufacturers to display the repairability level of their products, not only have our latest models obtained the highest scores on the market, we are also committed to ensuring that their components remain available for ten years.

We're ready to embrace the future, with you at our side
We have also developed a prototyping laboratory at our head office in Aix en Provence, which will enable us to further improve our smartphones' durability as well as improve on their ecodesign. And finally, the next challenge we have set for ourselves is to set up a dedicated reconditioning division that will give our products a second life.
Although social and environmental performance is now a key focus in every area of business, Crosscall remains an exception and one of the few modestly sized companies in the global telecommunications landscape.
We have come a long way since that stormy day, but there is still plenty to do. With the confidence that so many of you place in us every day by using and enjoying our products, we will continue in this direction.
I hope you enjoy our website.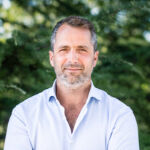 Cyril VIDAL
Founder and CEO
CROSSCALL founded by Cyril Vidal
Signature of the first mobile distribution contract with Decathlon
Launch of SHARK, the world's first floating mobile
4.5 million € of capital raised from ACG Management
Launch of SHARK-X3, TREKKER-X3 and ACTION-X3
Launch of the TREKKER-X4 and CORE-X3. Fundraising of 12M euros from Amundi and A Plus Finance.
CROSSCALL celebrates its 10th anniversary and wins the SNCF call for tenders
CROSSCALL launches the Core range and integrates the French Tech 120 and obtains the AER certification.
CROSSCALL wins the NEO tender
STAFF
Worforce (April 2020)
POINTS OF SALE
In France and all over Europe
INTERNATIONALLY
The Crosscall brand is now available in 14 countries around the world.
FRANCE SPAIN PORTUGAL ITALY SWITZERLAND SLOVENIA NETHERLANDS
BOSNIA AND HERZEGOVINA BELGIUM GERMANY AUSTRIA CROATIA SOUTH AFRICA