ALPINE QUEST
Alpinequest is the little cousin of Iphigénie (not of Alpine Mag!), with the difference being that it is available all over the world. The adventurer's answer to the question "why Alpinequest?" is straight to the point: "for topographic maps with GPS tracking even in the jungle." It couldn't be clearer – Alpinequest is primarily there to get you out of any mess you find yourself in, as long as you have saved the maps beforehand (as is the case for all other maps apps).
The advantage of Alpinequest, of course, is the real-time display of your position on the map. We can certainly vouch for this app, which works just as well in the desert as it does in the remote valleys of the Écrins, as we tested it out last winter!
To benefit from the best topographic maps, you'll need to purchase the paid version of the app, in addition to having an Android device: AlpineQuest GPS Hiking, available for €7.99.
➕ A great price for world maps.
➖ Some OpenStreetMap maps are a little inaccurate (place names for example).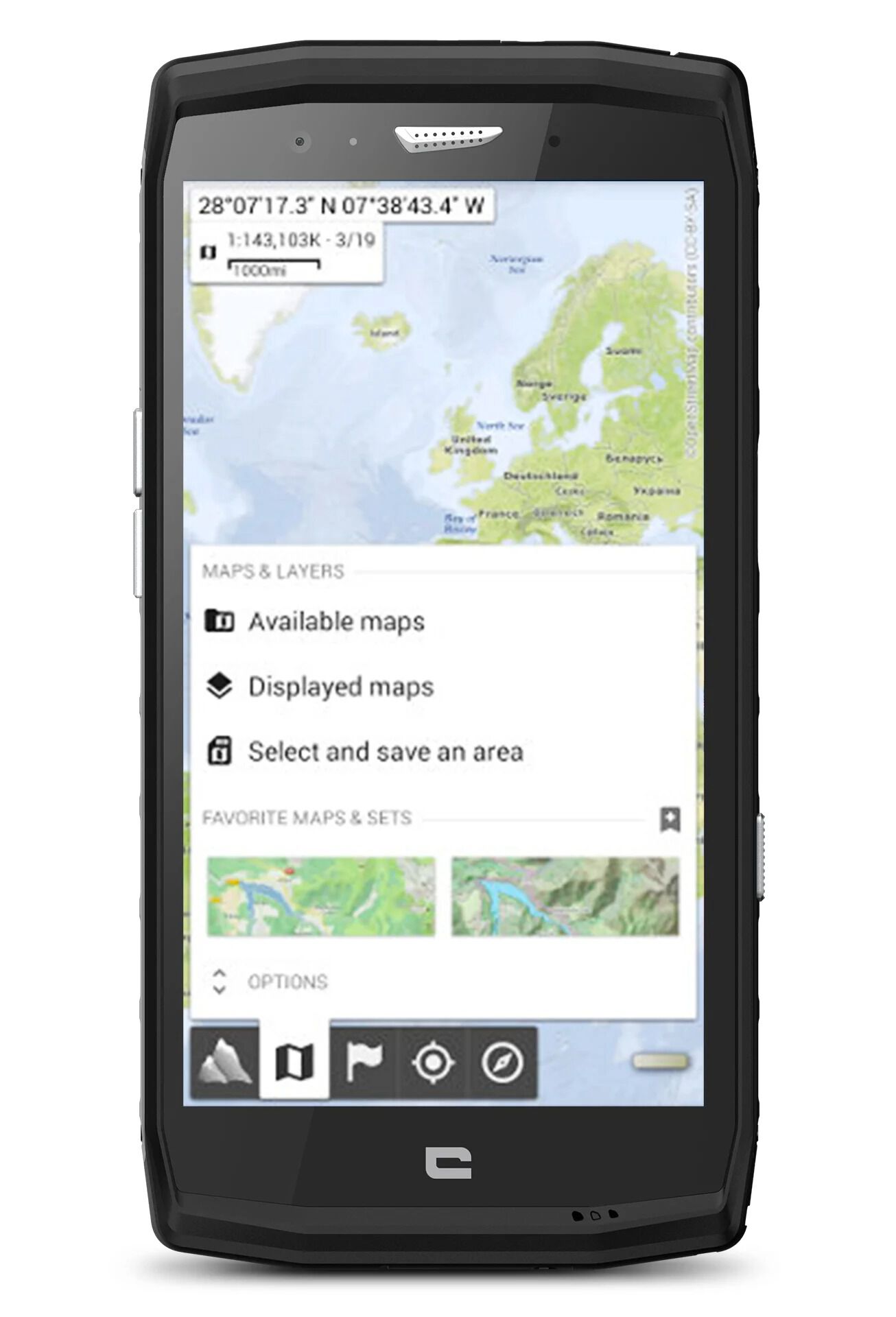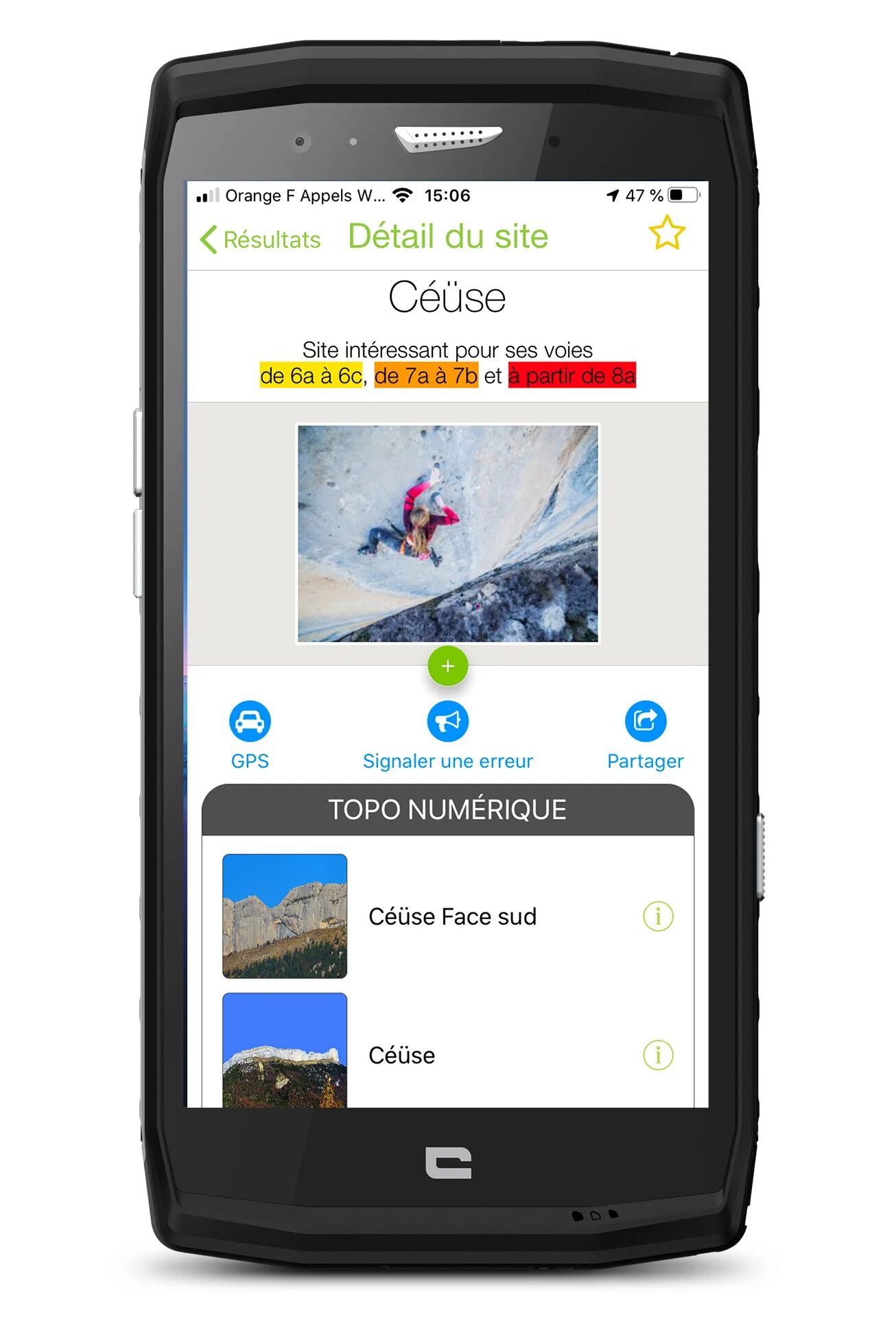 CLIMBING AWAY
Climbing away offers a wealth of information for the die-hard climber. Whatever type of cliff or level you're looking for, this app is perfect for finding inspiration when you're out and about.
With nearly 7000 climbing sites referenced around the world, even the free version is an easy and effective tool for discovering new locations, even though some countries are better provided with information than others. Each virtual topographical map is linked to a reference of the local paper topographical map, for those who want to look at their chosen location in even more detail, or for better readability. Note that some topographical maps can be directly purchased in a digital version via the app.
Thee comprehensive descriptions and large number of photos and diagrams allow you to get a good idea of the location, without breaking the bank if it's just a one-off visit And, of course, it's all available offline. A great starting point for climbing enthusiasts who want to leave the climbing walls behind this year!
➕The compilation concept.
➖ Not always up to date.
FATMAP
Although FATMAP started out by wowing skiers and freerunners, they are no longer its only target. The 3D map, available both online and offline, and the modelling of the routes on the map are FATMAP's stand-out features, enabling you to properly locate your route. Once you've selected a route, a menu appears with a difficulty scale (basic but indicates easy, difficult, very difficult, extreme). You can also find out the gradient of the slopes.
With FATMAP, you can plan all your outdoor adventures, follow your routes and navigate on the go. Developed by local experts, the free version of the app lets you create and download routes, record your trips in organised guides, connect with services like Strava, and explore a worldwide library of very detailed itineraries covering more than 20 activities.
The FATMAP Explore premium version (paid) gives you even more tools, such as topographic maps for different countries (France, United Kingdom, United States, Switzerland and more), live information, snow levels, customised tools and more, providing you with a comprehensive understanding of the terrain and enabling you to make the best decisions. Explore also gives you unlimited offline map downloads, so you don't need an internet connection and you can save your battery by using your app in airplane mode. An annual subscription costs €29.99. Take a look website.
➕ Precise 3D maps and suggested routes. shown in detail
➖ NTR.
Thanks to our partnership with FATMAP, get a 20% discount on FATMAP EXPLORE (23,99€ instead of 29,99€).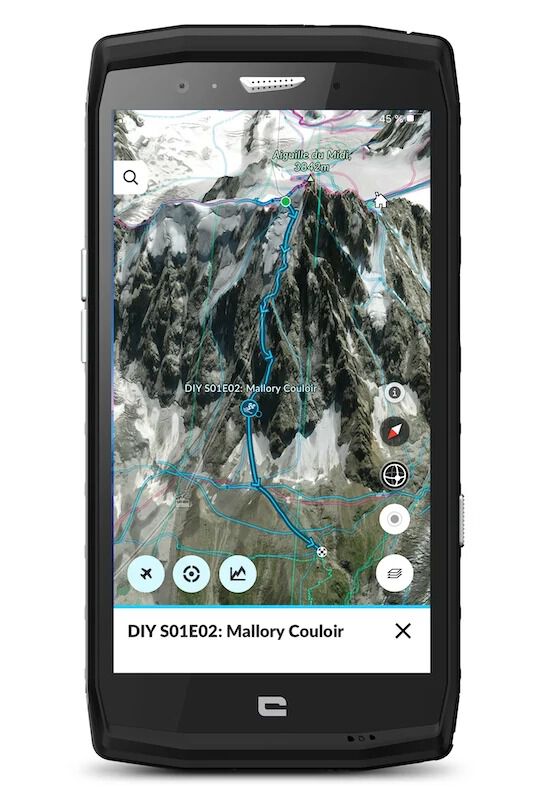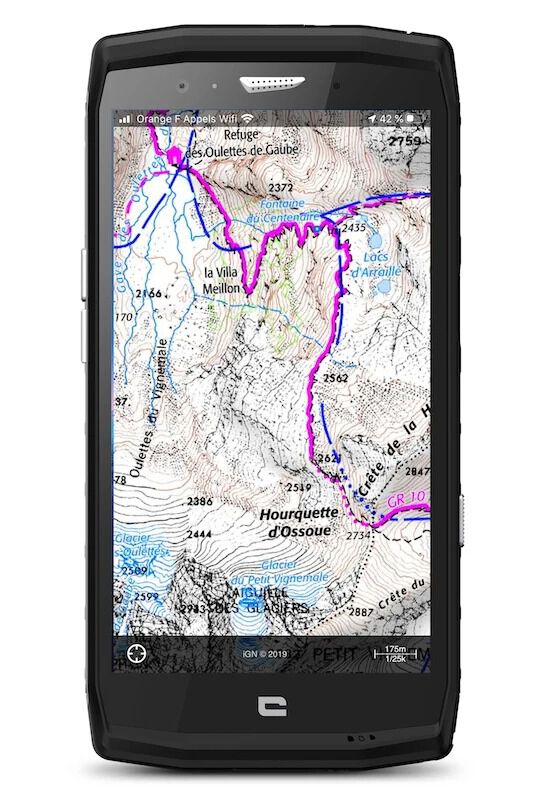 IPHIGENIA
The ultimate cartographic tool, used by more and more mountaineers, whether simple hikers or mountain climbers. Why do they love it? Quite simply because the app has the largest French stock of base maps for France (but not exclusively).
The downside of this offer though, is that there is too much to get lost in when you are still getting used to it. An additional advantage for winter hikers is the map showing slopes with a gradient above 30 degrees which is very effective for anticipating potentially avalanche-prone areas. In addition to offering detailed maps, the app provides geolocation in real time. This means it's impossible to get lost, unless you run out of battery … This makes some people wary of this tool because it is so practical that we might soon forget how to find our way on a "real" map…
The app is free to download and offers an unlimited version for 7 days. After this period, topographic maps (among others) become unavailable, unless you take out a subscription. It will then cost you €14.99 a year for France, and a recent innovation, €39.99 with a subscription to SwissTopo maps, which is still cheaper than buying paper maps. Once you have viewed a map, it remains available in an offline version: you no longer need to download the base map yourself, making it even more convenient!
➕Any map displayed is automatically stored in your smartphone so that it is visible even offline (with an annual subscription).
➖ Not designed for shareability.
RUN-MOTION
The RunMotion Coach app is a digital coaching app to allow runners and trail runners to reach their goals.
It offers individually-tailored training plans and a digital coach delivering advice and motivation. You can even choose your coach's temperament: positive, bossy or philosophical.
More than 85,000 runners use RunMotion Coach to help them to achieve their running goals and 88% find success!
Based in the Alps, RunMotion has received several innovation awards (InoSport, Geofab, etc.) and leans on the work of coaches, top athletes and scientists.
➕ Buy local with this app created in the Alps!
➖ The addictive side of training!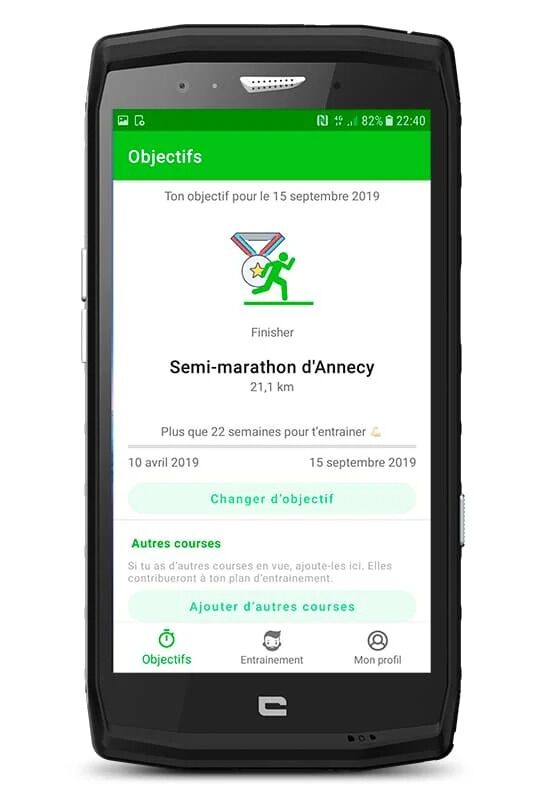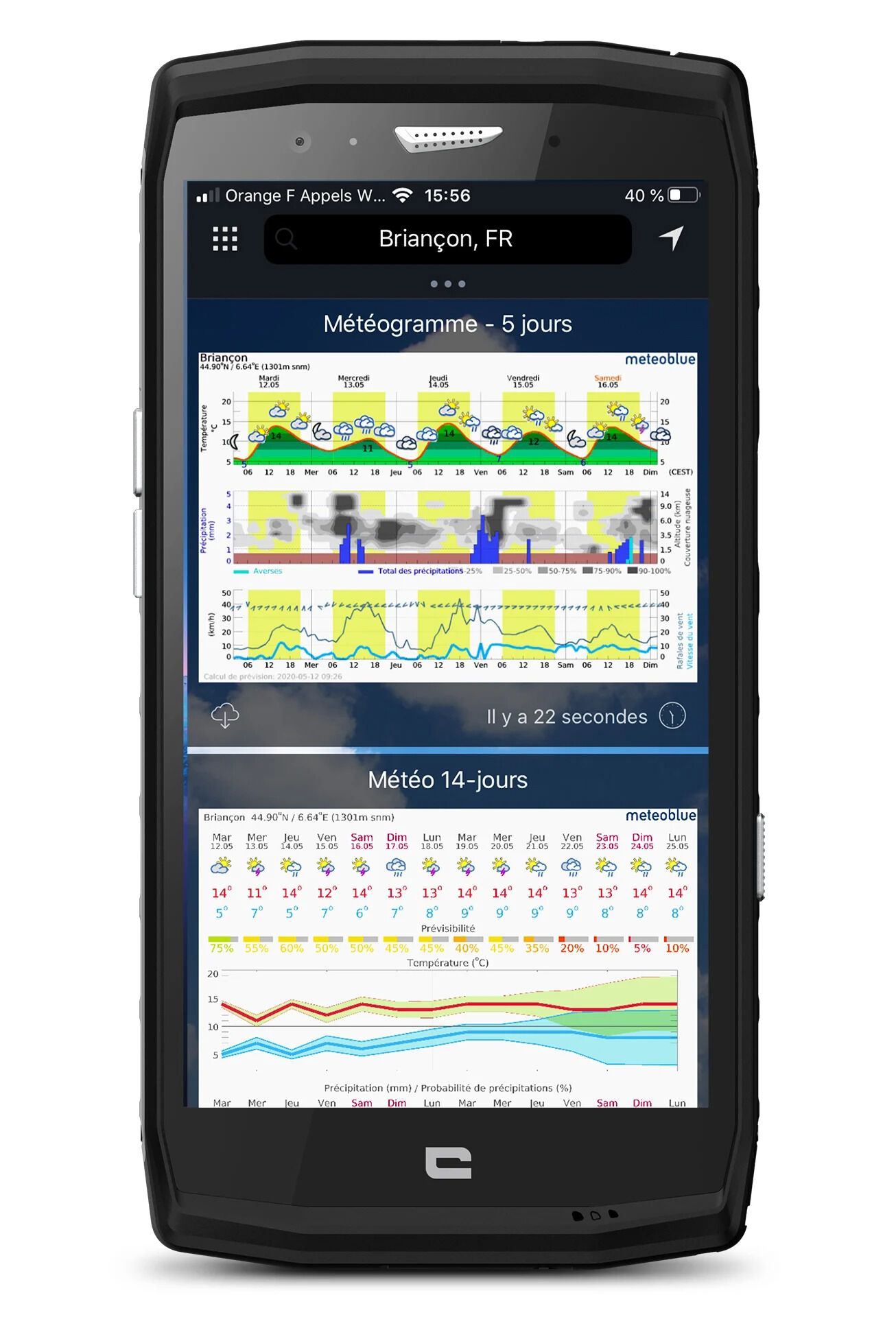 METEOBLUE
One of the major advantages of Meteo Blue is the multi-model way weather forecasts are displayed. For 5, 7 or 14 days, the app (just like the website) records and projects forecasts from several national and international weather models (using different algorithms), to get a more precise idea of the forecasts and their possible margin of error.
Among other things, the very comprehensive Météo Blue tool offers the history+ function to display the weather log for the last days and weeks, and the where2go function to find the only sunny place within a chosen radius so that you can dodge the rain showers.
In summary, this is an app with so much that the uninitiated user is sure to make use of just a small percentage of what it offers.
➕The reliability and comparison of the weather models.
➖ The avalanche of data!
METEOCIEL
Renowned as a favourite among farmers, Meteociel is primarily a website with a design that you could say was a little dated. But the app is much more modern. But one thing to say right away is that Meteociel only covers France. But for anyone who needs to know the weather forecast for France, in the Alps or on the coast, there's no doubt that the Meteociel app has earned quite a reputation. To do this, Meteociel gives you alerts for temperature, pressure, humidity rate, the expected amount of rain, wind, thunderstorms.. It's a bit like RainToday but much more comprehensive.
The big advantage of Meteociel for novices is the weather information, but those who want to go into much more depth can immerse themselves in analysis of the different models and build their own forecasts. Many models are available, and you can literally get lost in the amount of data on offer. In short, for outdoor enthusiasts who want reliable French weather forecasting, this is one really serious app.
➕ The reliability of the weather forecasts for France.
➖The excessive amount of data.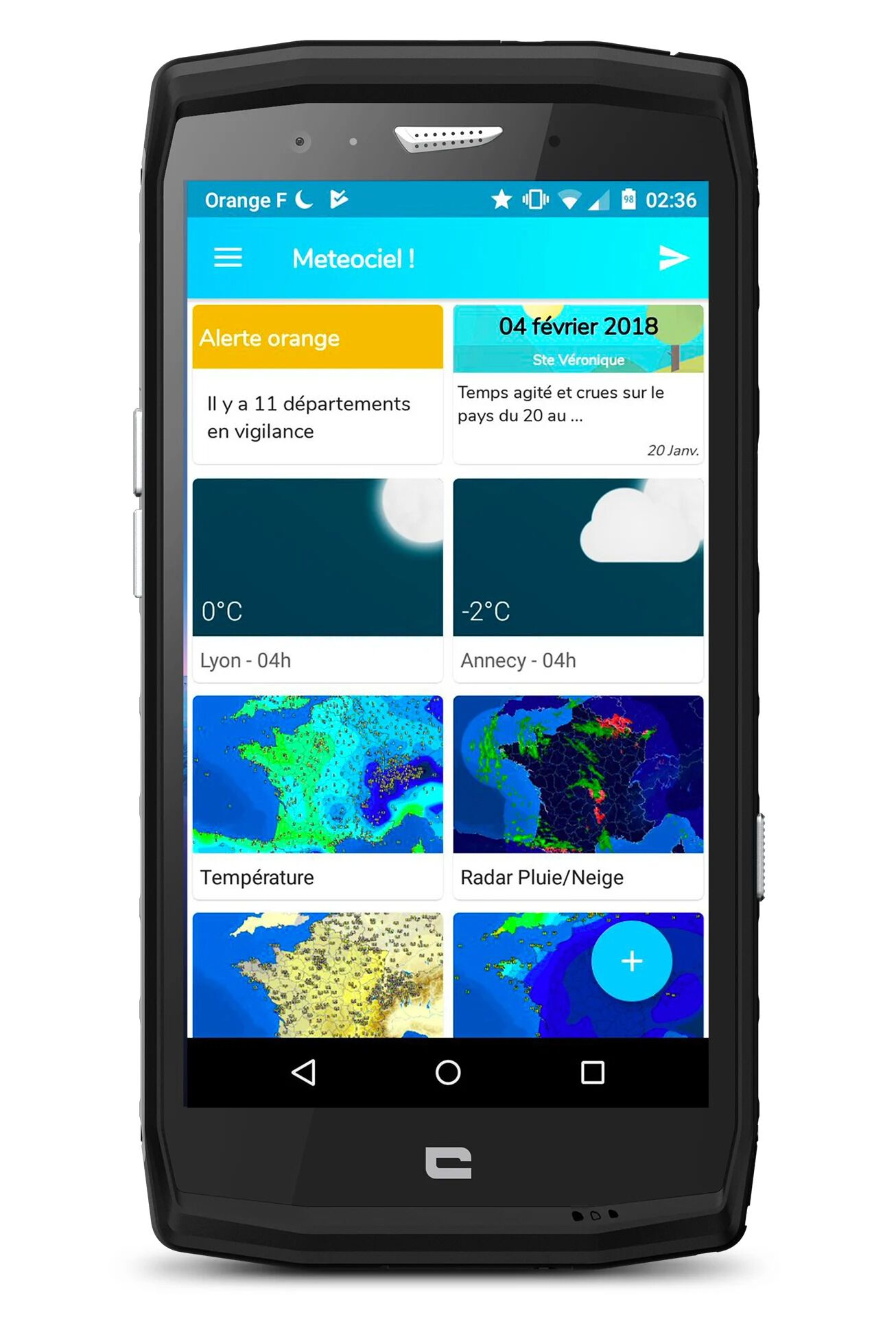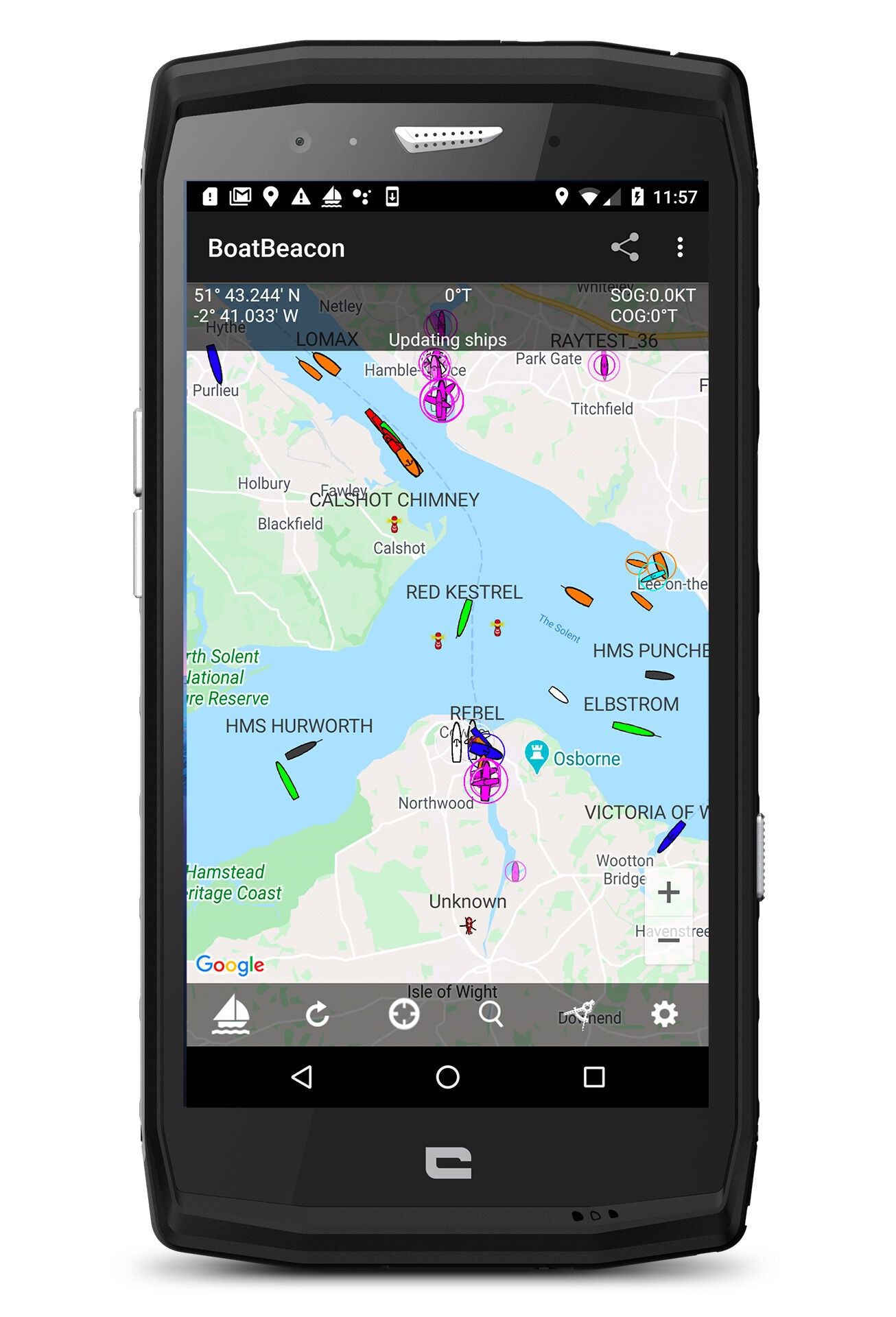 NAVIONICS BOATING
It's tricky to summarise an app as comprehensive as the one Navionics offers, with Boating Mer et Lacs. If you are – from time to time – passionate about the coast and the sea, whether it's for paddleboarding, surfing, canoeing, kiting, fishing or simply sailing, you should know that this app provides the best nautical charts out there.
It's GPS on water, complete with options that would be the stuff of dreams for a sailor from the early 20th century: like SonarChart shading, a function that presents a detailed rendering of the bottom of seas and lakes in different shades of blue and gives you a better understanding of your environment.
Without going into too much detail, be aware that the app also offers advanced functions such as Dock-to-dock Autorouting for those who want to embark on navigation, with suggested routes based on the map data. Free trial of the app then annual subscription which varies depending on the maps (Central and West Europe, €30.99/year; Complete Mediterranean €19.99/year.)
➕ The quality and reliability of the nautical charts.
➖ Lots of info in English – the perfect time to revise!
PEAKFINDER
Warning, relaxation app! PeakFinder is an app that will give you everything a local guide has in terms of knowledge of summits, whether you are at Everest base camp or at the top of the Aiguille du Midi cable car.
PeakFinder "knows" more than 650,000 peaks: just point your smartphone at a panorama and the app recognises the peaks, and names them. Magic, eh? And especially given that the app has its directory of summits in memory as well as a digital model of the terrain so there's no need to have a 4G connection for it to work.
You can also take a panoramic photo and export it with the names of the mountains written above. Note that the Viewranger Skyline tool offers the same service.
➕The magical side of the app.
➖ Not essential but it's charming all the same!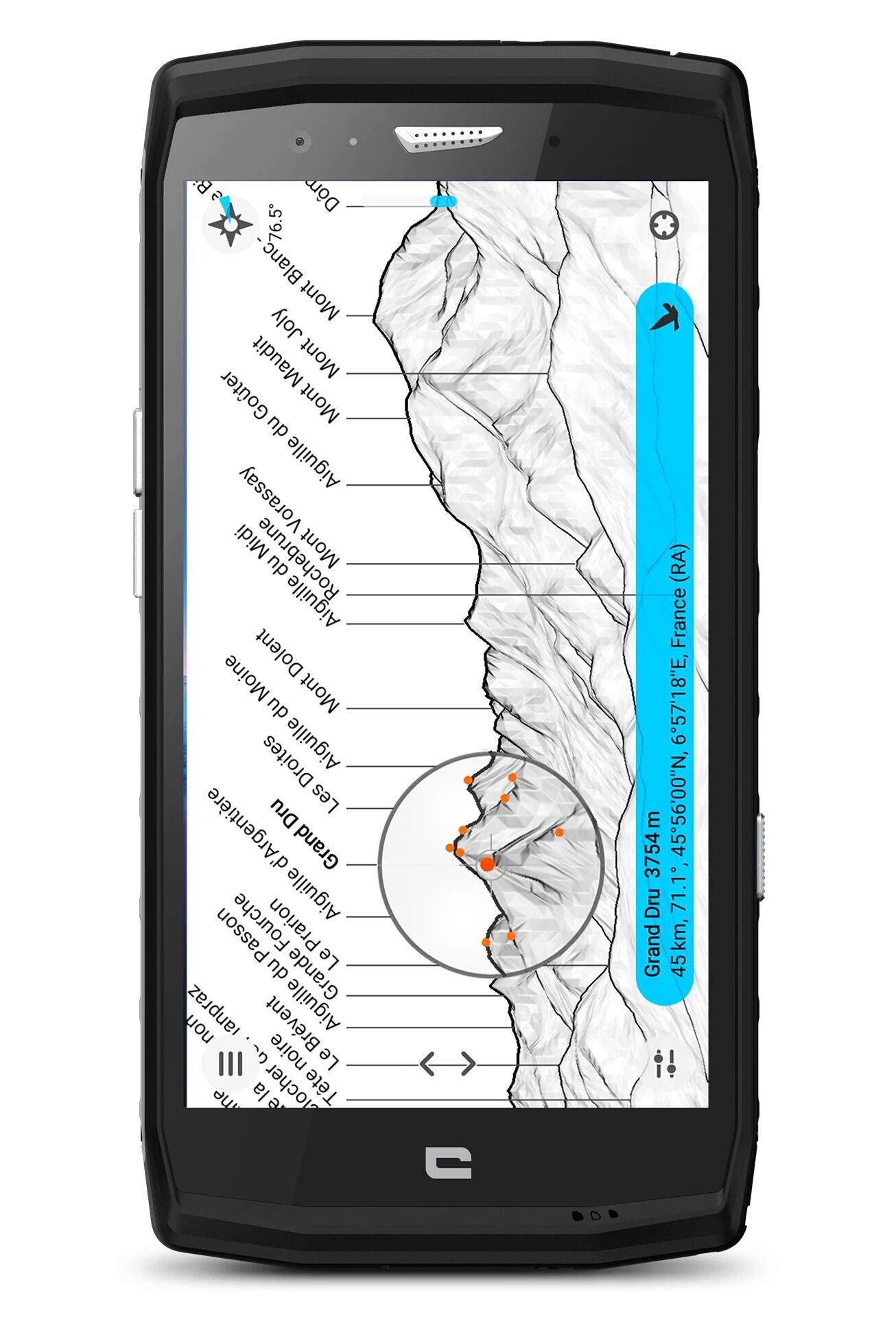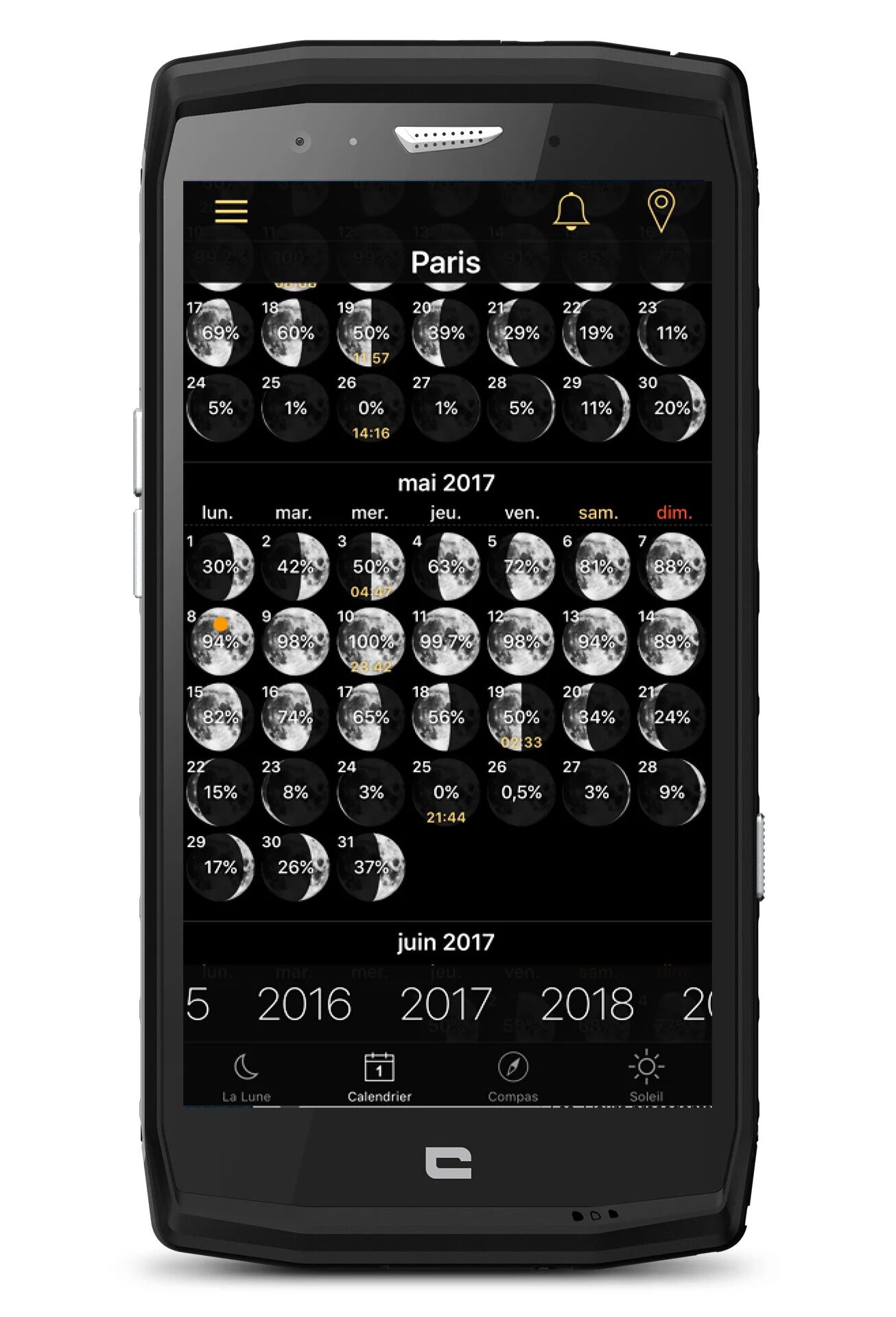 MOON PHASES
Hold the moon in your hand with this amazing 3D simulation of the moon phases and real-time data updates. Turn the moon back and forth through its phases.
The app displays all the required information: the rising and setting of the moon, the level of illumination, the name of the current phase, the sign of the zodiac, the distance and the age.
There is also a monthly calendar where you can see how the moon changes each month and what the next lunar phases will be. And it all comes in a pleasing interface. Finding out more about our satellite is the basis for anyone who loves a night under the stars.
➕ The NASA images created to show the shadows of the craters.
➖ User-friendly except for the privacy policy, so be careful.
RELIVE
Go out, track your activity, take photos… and voilà: Relive allows you to create 3D videos to enhance your activity in video, review your itinerary in 3D with your photos included, and of course, share all of this on social media. In short, you can relive the best moments from your excursion.
There are no limits when it comes to the activity: just launch the GPS tracker and the Relive app does the rest, whether you're on a bike, on foot, or cross-country skiing. It's worth knowing that the app also works with data collected by the following apps: Suunto, Garmin Connect, Endomondo, Polar, Apple Health, and MapMyHike or MapMyRun.
The premium version of the app, Relive Club, allows you to adjust the speed of the video, import old activities to turn them into video, add music, add more photos (up to 50) or create 3D videos from activities lasting longer than 12 hours. In short, even in the free version, Relive is a cool app for video recording a great trip saved on your watch or smartphone, and then sharing it.
➕ The intuitive feel of the app.
The option to add friends who joined you on your outing to your video
➖ Relive no longer integrates Strava in the third-party apps that it manages for the moment (this was the case as of last July).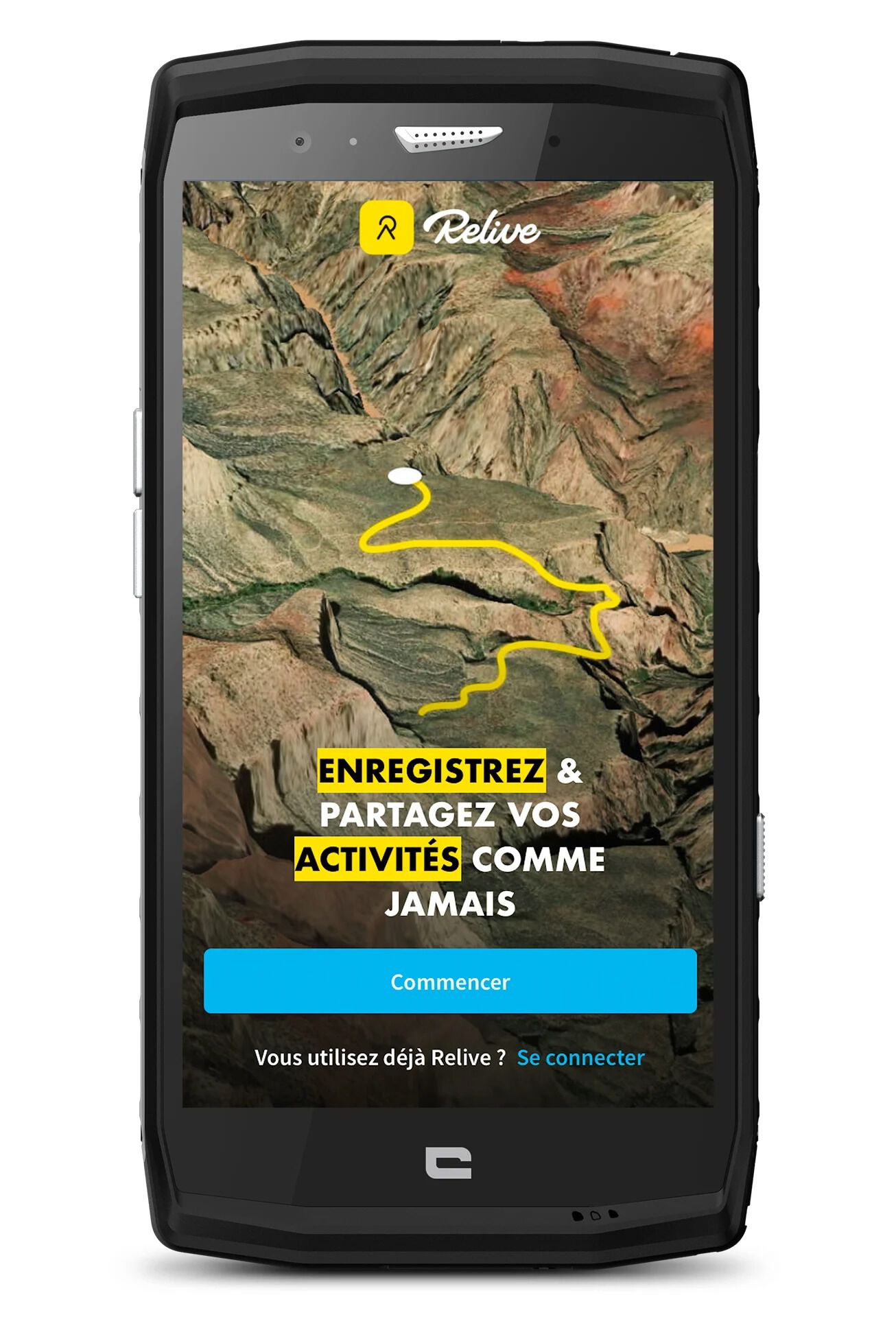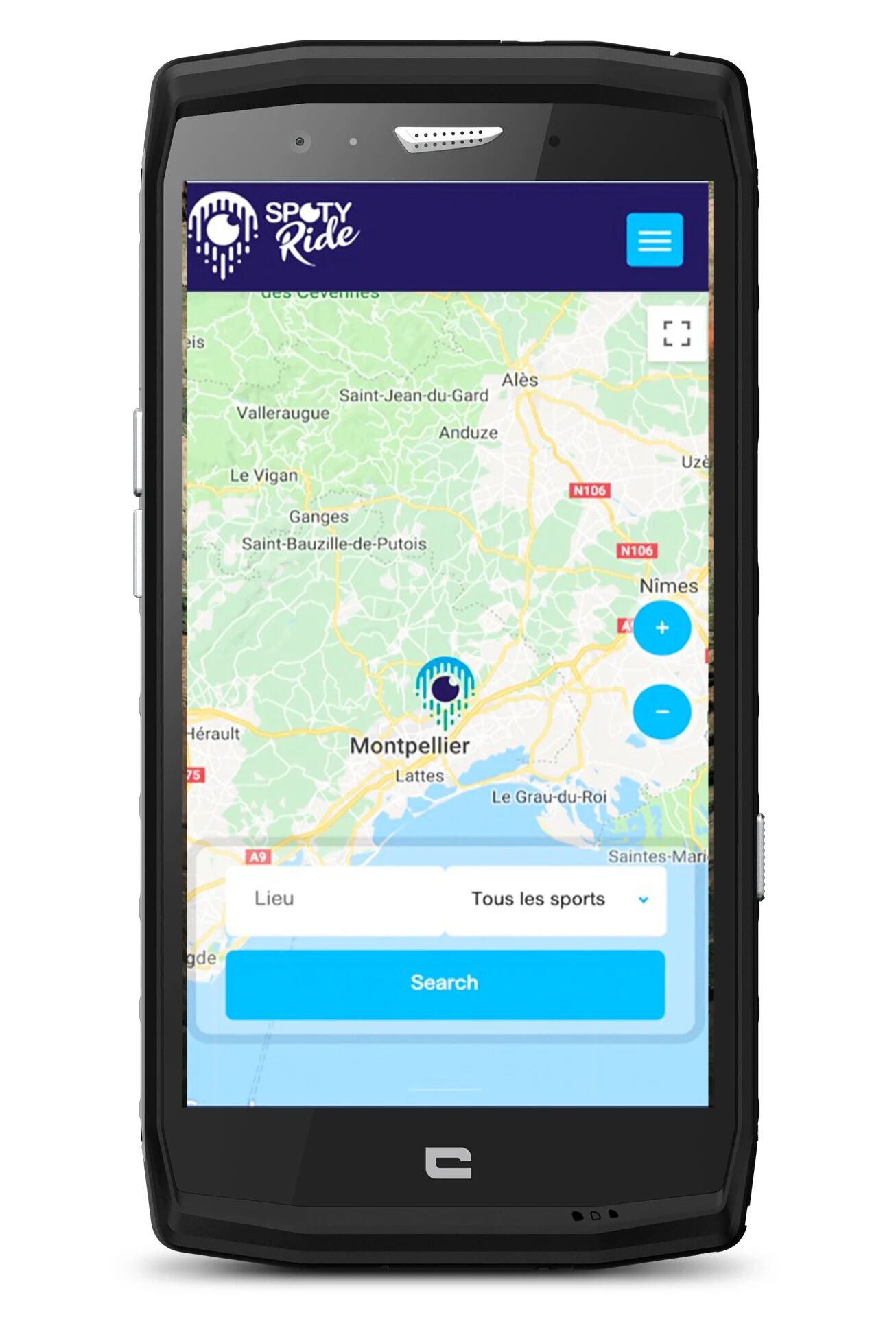 SPOTYRIDE
Spotyride is an app that brings together more than 1,500 watersports locations around the world, all geolocated on the same map. Whether you love surfing the perfect wave or are a wakeboarding fan, you'll find all the information you need for your sport on this app, as well as clubs and associations that operate on the lakes and offer their services.
Even though the tool could do with some perfecting, Spotyride remains a great way for enthusiasts to find a nearby spot or one anywhere on the planet in just 3 clicks.
➕ The geolocation of watersports locations.
➖ The map could be improved and /or can be slow to load.
SPORTIHOME
The pitch? It's all about three words: Sportihome is the leading guide to locations and accommodation booking site for outdoor lovers. Whether you are looking for accommodation in the mountains, near a cliff, a mountain biking route or in the heart of the Alps. Sportihome combines outdoor activity locations identified as such by the community with offers from pros and individuals who can provide rented accommodation close to these locations.
But Sportihome doesn't just "sort" the accommodation: you can choose to select accommodation "at the foot of the slopes", "tracks accessible on foot" or "gondola lifts accessible on foot" for example. What makes Sportihome different is that it offers rentals with outdoor equipment provided by the hosts: mountain bikes, snowshoes, SUPs, canoes, etc.
Finally, the app offers a Stay Share Play label, in other words, three levels of services: Stay for accommodation only, Share, giving you ideas and information about the outdoor activities that you want to do, and finally, Play for when you are looking to join your hosts or fellow holidaymakers on sporting excursions. In short, it's fresh, and bound to be in vogue next summer with the staycationing that's sure to be a feature of the summer holidays…
➕ The friendly feel of a Made in France holiday accommodation platform.
➖ It's still short on locations.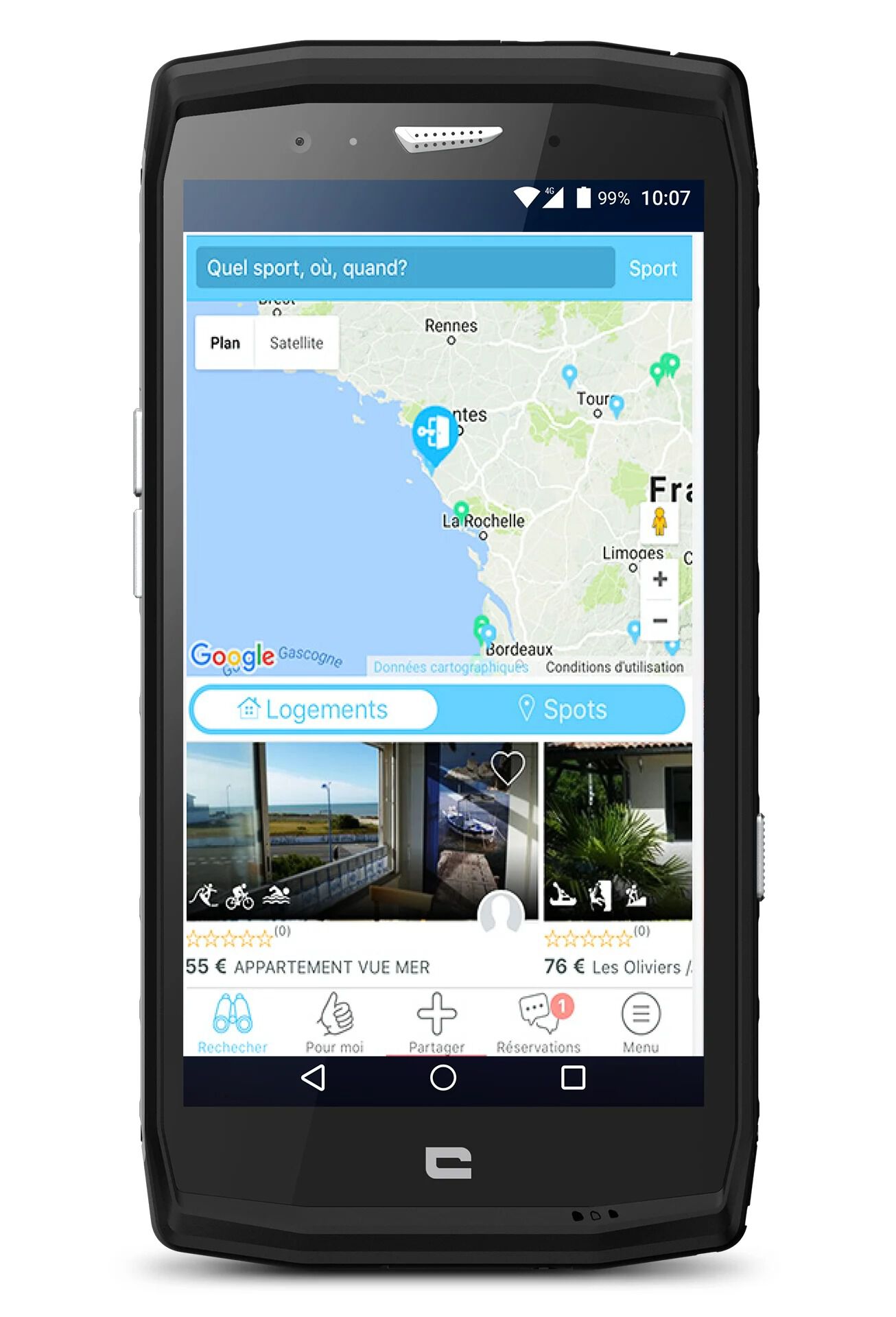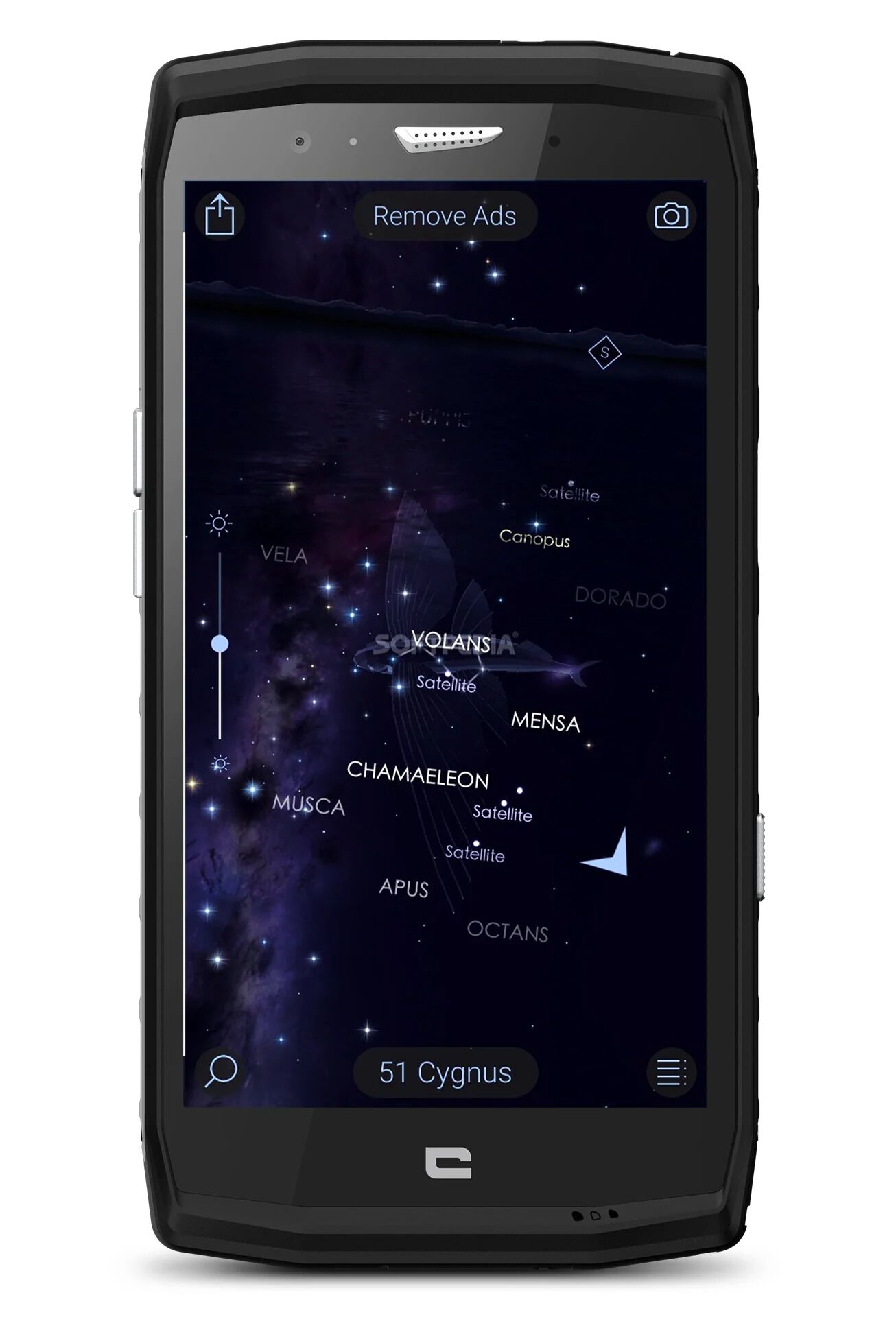 STAR WALK 2 FREE
Who has not dreamed of an idyllic bivouac under the Milky Way? Sleeping under the stars is about stargazing first, then sleeping! And what's this beautiful constellation directly above your tent called? Thanks to geolocation, this app will tell you. Simply point your smartphone at the sky, and miraculously, you'll be able to name the stars. Starwalk does all of this, and more. You will, for example, be able to watch a 3D modelling of breathtaking celestial bodies (as an in-app purchase), the same ones a few thousand light years away that are before your very eyes… The perfect way to spend an evening outdoors this summer. We love.
➕ The visual effects of the app, like the time machine!
➖ The ads, unless you invest in the full version.
STRAVA
Indispensable for (almost) all trail runners and (all) cyclists, this app from California knew just how to bring a huge community together. Downloading Strava is a bit like entering a club where everyone shares the same passion: pushing your limits. In Swedish, Strava means "strive to do something relentlessly".
An app for anyone who loves getting out on the road or on trails. With a strong focus on performance, the Strava system works as a network between its members, who congratulate each other by giving Kudos, equal to the blue thumb on Facebook. THE social media site of the sportsman, Strava is a super efficient way to record your route via GPS. However, the somewhat simplistic base maps make Strava useful mostly on well-defined paths and tracks. Watch it, if you love hill and mountain runs or going off-piste!
In the mountains, Strava is therefore aimed more at summer hikers, trail runners and cyclists The app, linked to a website where you can also look at your profile and performance, is free to access. Enthusiasts will be tempted by paid extensions that enable Strava to analyse their performance so they can push their limits, or use the Beacon function to share their position with friends and family when training alone. To access this premium offer called Strava Summit, you'll pay €5 a month.
➕ We love competing with others on our favourite segment, aka our favourite steep climb
➖ We're not so keen on seeing that we're 247th this year on the same segment.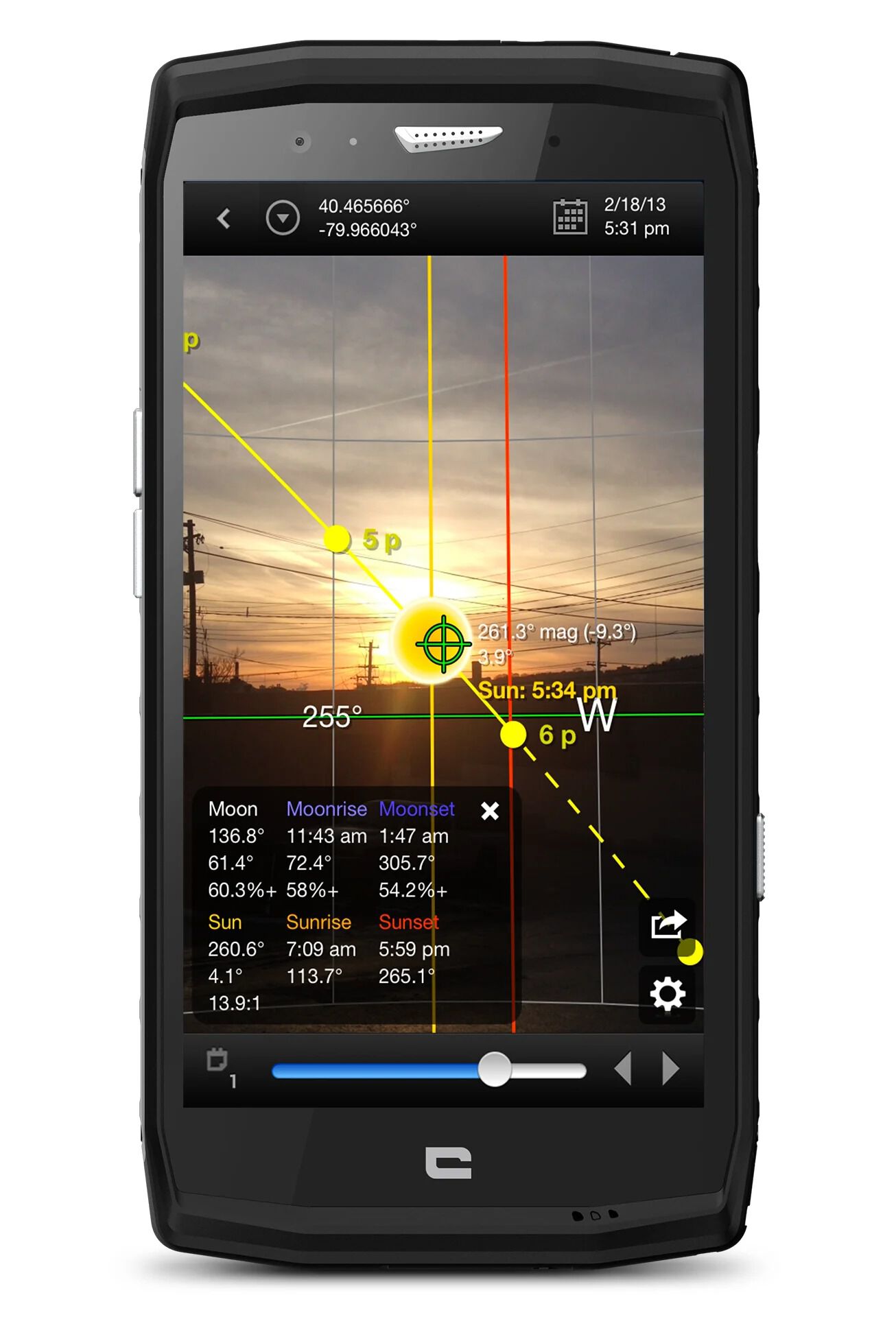 SUN SURVEYOR LITE
Here is an app which turns out to be super useful from a technical point of view! With Sun Surveyor Lite you can view the position and times of sunrise and sunset, as well as its trajectory with a 3D compass; Sun Surveyor Lite is useful when you want to recce your photography and video locations: if you want to know when to shoot this great sequence on a beach in Corsica or when the sun will set on the Aiguilles de Bavella, Sun Surveyor will tell you! But it has other uses besides photography: do you want to know whether this bivouac on this slope will be sunny in the morning? Sun Surveyor provides the answer.
Better still, the Time slider function allows you to view events over a day, or over a year to see the days lengthen and shorten, as well as the changes in the trajectory of the sun.
An app for the outdoor geek or photography control freak, but which can also be very practical for the creative among you. The premium version (€8.49) provides augmented reality with the camera – when the sun and moon pass behind a building for example – and lets you use the app offline.
➕ The app for outdoor geeks wanting to shoot sunrises and sunsets.
➖ The compass is sometimes difficult to calibrate.
VIEWRANGER
The very easy to access Viewranger is one of these polymorphic apps, halfway between a mapping tool and an exploration aid. In several clearly defined stages, Viewranger is able to select an existing route according to the activity, the distance and the desired difficulty. In this tab, you can also find routes shared by other users and download them. Once downloaded, the track appears on the map. This app is also one of the few (maybe the only one?) that allows you to import a route created beforehand at home, from a base map on a computer.
Another useful feature is that with just two clicks you can start recording your route, which will be saved and transferred to the map as you go. Once your race or hike is over, you press "stop" to stop the tracking and go over all of your statistics (distance, elevation, speed, etc.), which also come in graph form. The Premium version offers several additional tools: complete security: Buddy Beacon, an app feature that allows you to privately share your current location with family or friends.
In addition, you will have access to the Skyline function which uses the phone's camera to identify particular features of the landscape, peaks or villages, from more than 30 km away. Viewranger Premium (priced at €4.99) also includes 3D flyovers of the routes. Viewranger offers different formulas which add subscriptions to the maps of a country to the Premium tools: France, Great Britain, United States, New Zealand, Canada, Netherlands, Belgium, with for example an annual subscription at €19.99 for the mapping of a country like France. Once subscribed, you will be able to consult the "national" maps in unlimited and offline mode, accessible on smartphones, tablets and smart watches.
➕ The abundant mapping that's also at different budget levels.
Easy to export GPS tracking to the computer.
➖ Oriented "only" to hiking.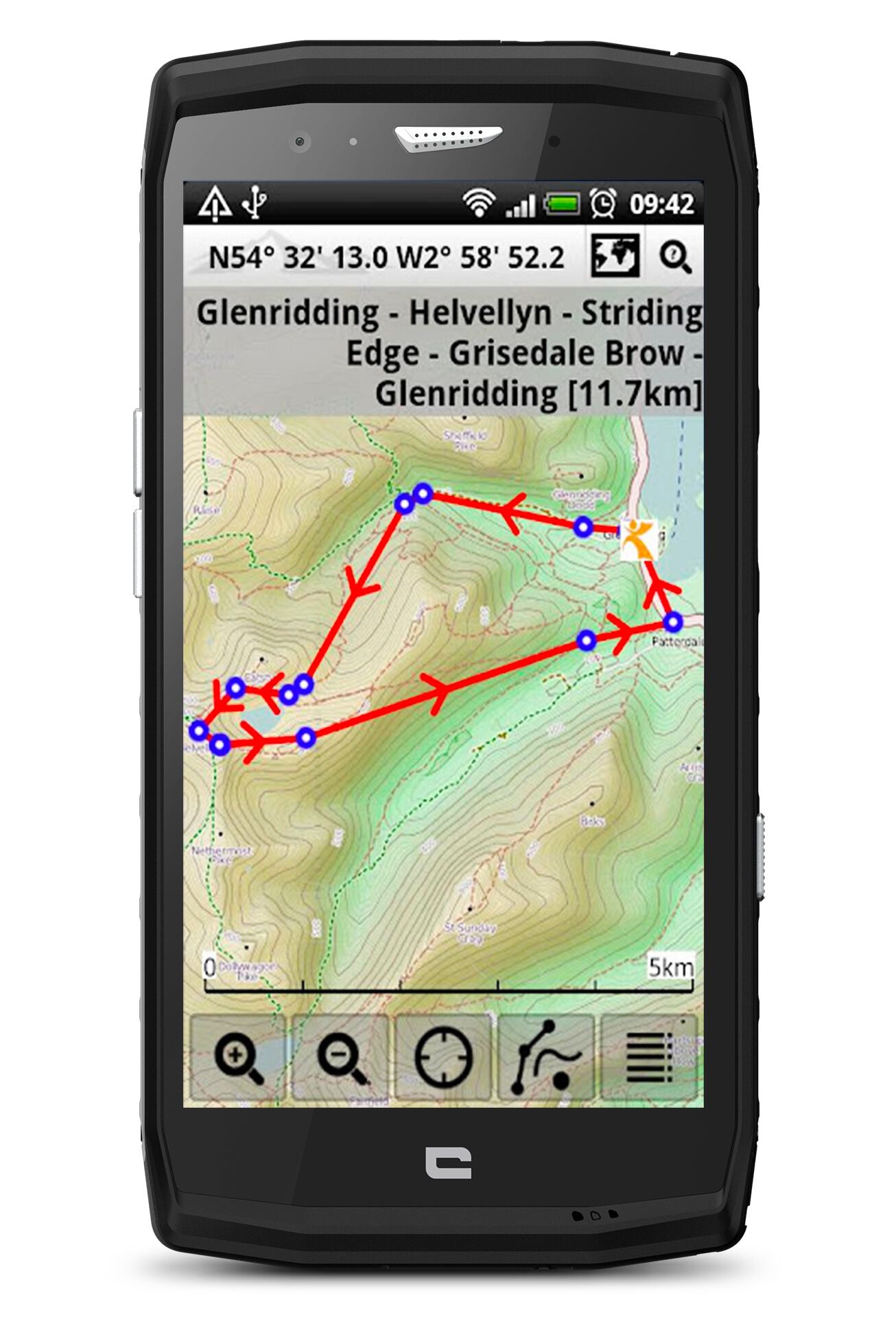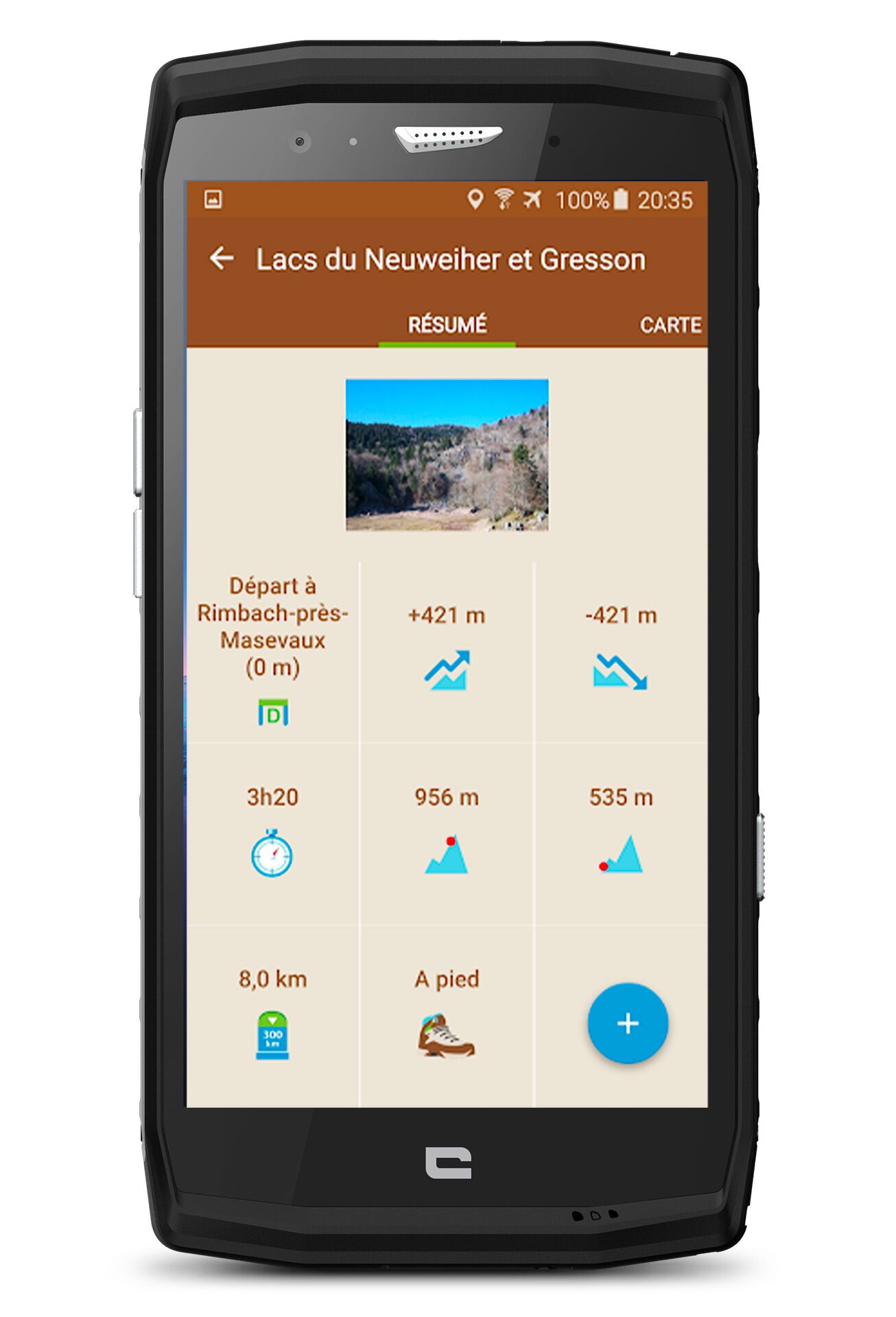 VISO RANDO, FOR YOUR HIKES IN FRANCE
Unlike the other mapping apps presented here, VisoRando does not show the map first. And for good reason, because the aim of this app is instead to help you look for and find hiking routes, rather than to provide a multitude of maps.
Designed to be a real discovery guide, VisoRando is all about helping people discover the world and its paths. The maps are of course available and downloadable within the app, once your route has been selected using the menu. The latter offers a multitude of routes according to criteria such as location, mode of travel (on foot, skis, on horseback, bicycle, snowshoes), the desired duration of the hike and the difficulty level.
The subscription, via the app, gives unlimited access to IGN maps for France for the duration chosen (3 months or 1 year). It also allows you to use the app with maps in offline mode, with the OpenStreetMap basemap being free for the whole world. It costs €11.99 for 3 months and €18.99 for the year.
➕ The library of 16,000 hikes in France (and many others elsewhere)
➖ Continued use of GPS running in the background, which, like for other apps, reduces battery life.
WHYMPR
Whympr (pronounced Whymper, named after an English mountaineer from the golden age) seeks to be a hub of information for the mountain lover, whether it's hiking, mountaineering, ski touring or climbing. Whympr clearly has a community-based aim since it helps you to prepare your excursions, before sharing them with as many people as possible.
The basic app is free and provides access to more than 240,000 route descriptions. The idea of the app is to group together and harmonise several online sources of information such as the community topographical site Camptocamp. The aim of Whympr is to be the Swiss army knife of the mountaineer who seeks as much information as possible about a race or an area. Of course, the idea is to share your info when you return from an excursion.
And lastly, you can store your trips in the memory. The premium paid version allows offline access, weather forecasts for the summits, 3D mapping and the filter. In addition, you can buy maps such as IGN in France and professional topographies individually or in packs.
➕ A neat and intuitive design and interface, unique for mountain lovers.
➖ The topographies can be a bit of a jumble sometimes; you have to know exactly what you're looking for.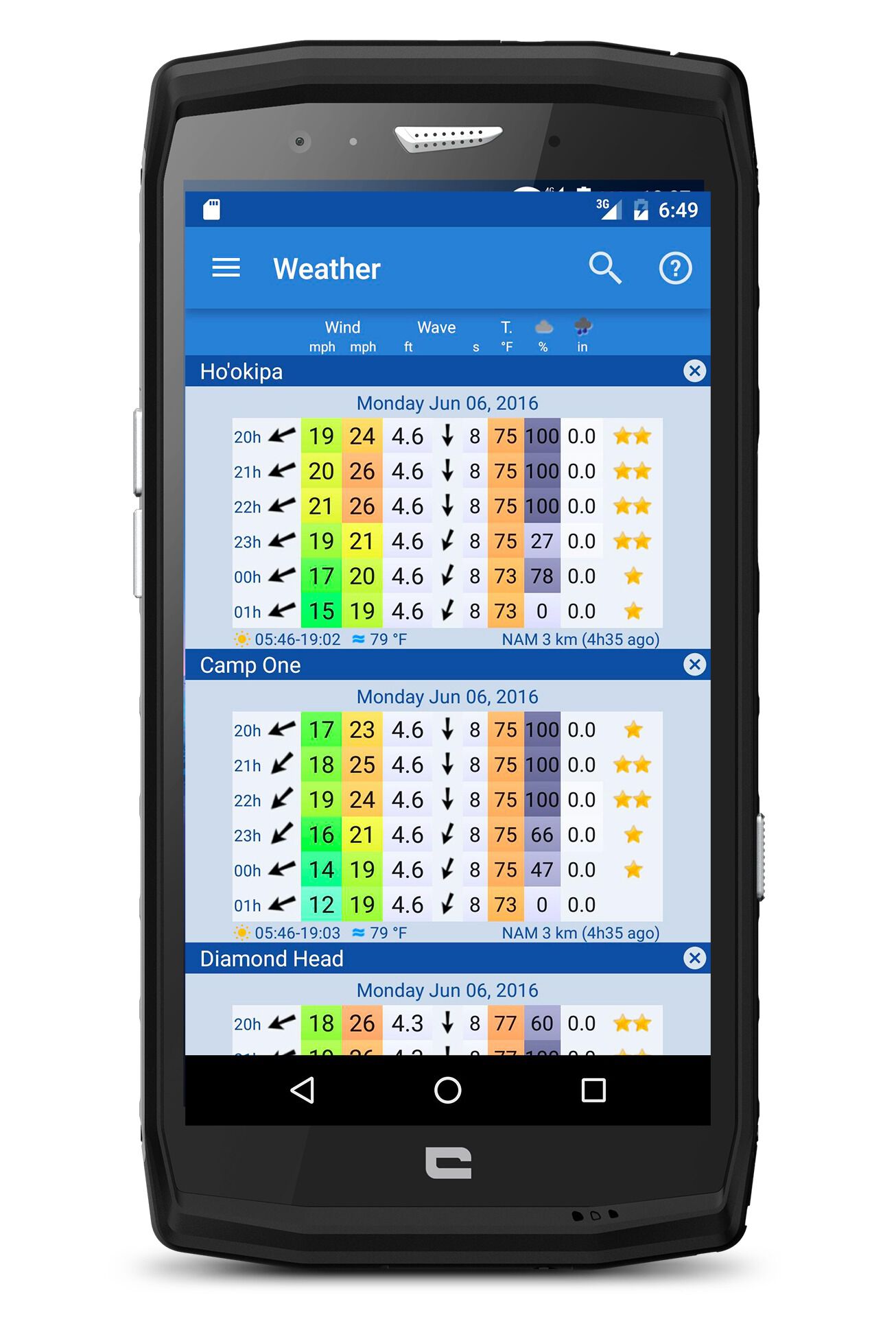 WINDGURU LITE
Windguru works in a similar way to the windguru.cz website but has only retained the most essential information: wind forecasts, live reports, wind maps. For kite enthusiasts, windguru is a staple.
Be aware that the windguru web version is actually a PWA (progressive web app) meaning that it is an app that is installed on your smartphone without going through a store: we advise all fans to choose this version of windguru over the windguru Lite app from the Google Play Store.
➕ The reliability of the forecasts.
➖ We like the Lite version less than the original.