CREATE YOUR LIFE STORY
With a lens and functions worthy of the best action cams, the TREKKER-X4 was designed to accompany you on your most extreme expeditions but also to capture them. With X-CAM, its dedicated Photo/Video App, and X-STORY, the Crosscall editing app, you can create your stories by filming, editing and sharing your achievements easily, and above all instantly. Its intuitive use, its reinforcement, its shock resistance and its waterproofness also make it very comfortable to use, turning it into an everyday smartphone that is always ready for action, whether it's at the other end of world or in your basement.
Read all
170° Hyperstab action cam
5.5'' Screen - 16:9 - Full HD
4/64 GB - UV filters, Alti-Baro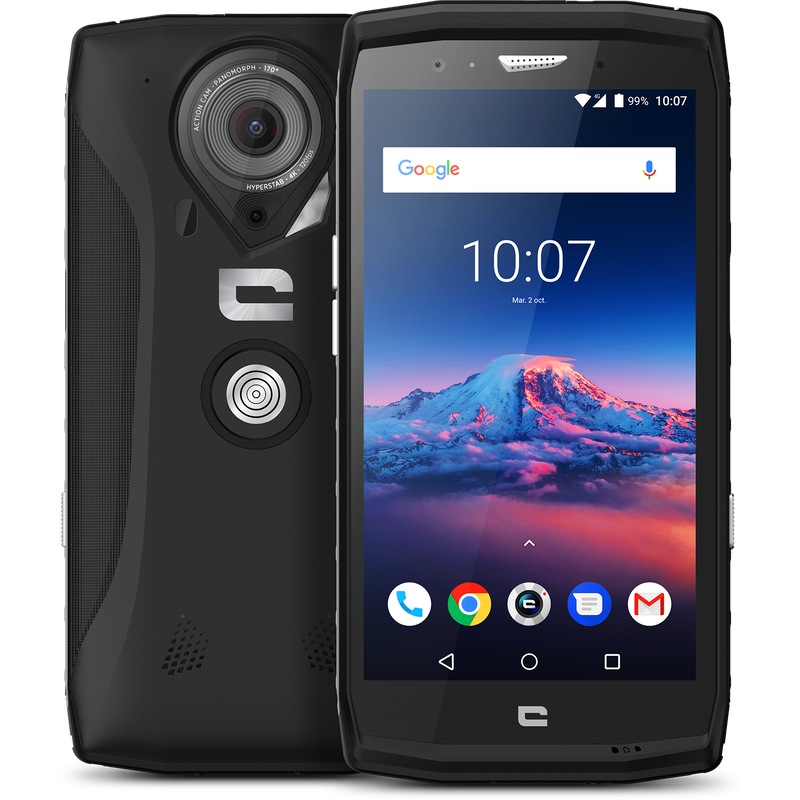 € 499,90
Price reduced from

€ 699,90

to
-28.58%
There has never been such a fine line between an action cam and a smartphone. In fact, the TREKKER-X4 delivers everything you could expect from the best of action cams: a 140° wide angle lens and cutting-edge performance capture – slow motion up to 120 frames/sec, HD video up to 40k at 30fps (in normal angle and Fisheye), stabilisation (anti-shake) and hyperstabilisation (horizon remains flat), etc. – and all of it sheltered inside the most reliable, hardest-wearing of smartphones.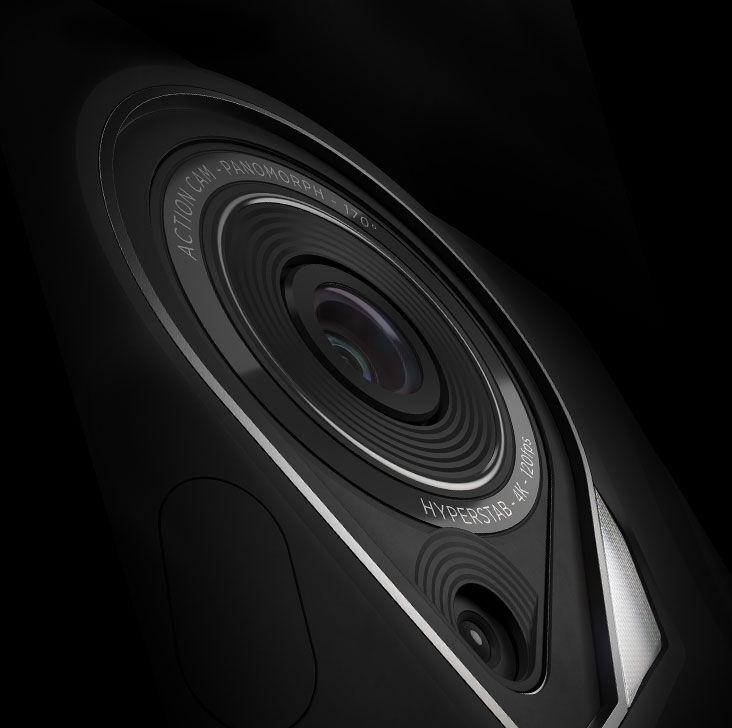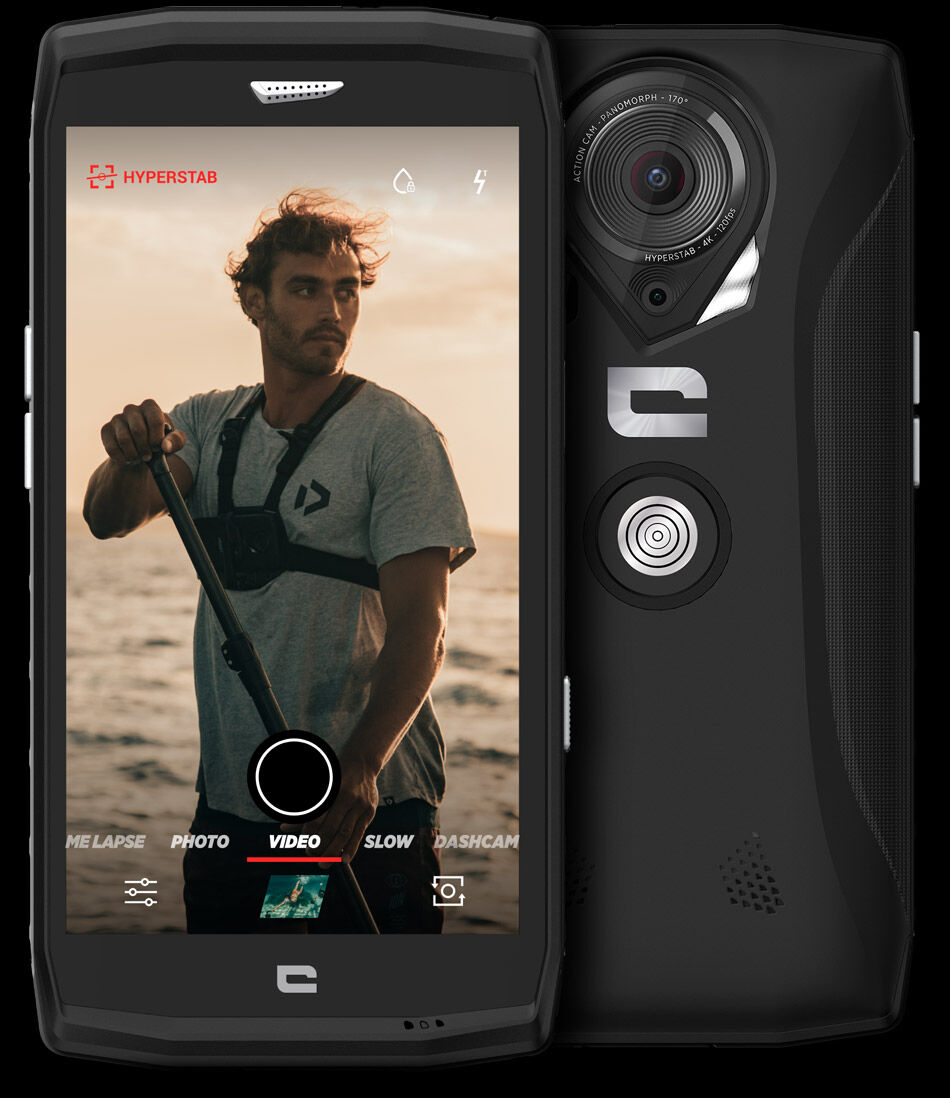 FILM EVERYWHERE ALL THE TIME
Film your adventures from every angle with the X–CAM* app on your CROSSCALL TREKKER–X4 smartphone.
(1) Available exclusively on TREKKER-X4 starting with ANDROID 9.0 (2) Android, Google Play and the Google Play logo are trademarks of Google LLC.
Certified IP68, the TREKKER-X4 is resistant to particles and numerous liquids. In salty water as well as in chlorinated swimming pools, it can be immersed for 1 hour up to 2 metres deep and you can even take it with you for water-based activities involving serious amounts of splashing. Jet-skiing, kayaking, snorkelling, you can enjoy everything without having to worry about your TREKKER-X4.
With durability like this, there's no doubt that it's a CROSSCALL. Its reinforced CorningTM GorillaTM Glass 5 on the back and front won't crack or break on impact. Its structure is mounted on bushing and absorbs shocks, and includes fibreglass, an internal magnesium metal plate, aluminium side bars and reinforced corners… Its durability has been proven since the TREKKER-X4 has the highest pass rate for the MIL-STD military standard tests for any smartphone from the brand. The MIL-STD military standard is US Army-created examination to replicate actual conditions of use for electronic appliances in the field, in extreme conditions.
With its 4,400mAh battery, the TREKKER-X4 pushes back the boundaries to allow you to enjoy its features and its camera for as long as possible and even more besides, thanks to its outdoor continuous use energy saving mode. It quickly regains its battery with optimised QC 3.0 charging and a shielded USB-C cable that comes in its own box. It is also compatible with intuitive charging accessories that extend its life, such as the X-POWER, a charging station with a 5,000mAh external battery and the X-CAR, to charge your smartphone by the end of your journey.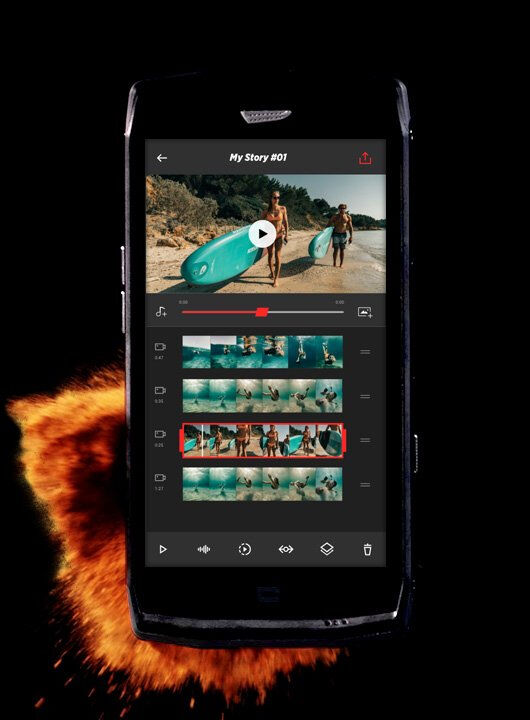 While the TREKKER-X4's X-CAM app makes it easy to capture video, the X-STORY app, also designed and developed by Crosscall, simplifies its publishing, editing, and exporting so that you can share your adventures instantly. Practical, both these apps are built directly into your smartphone, which becomes an all-in-one tool offering you intuitive handling, perfect for creating videos equal to your outdoor performances.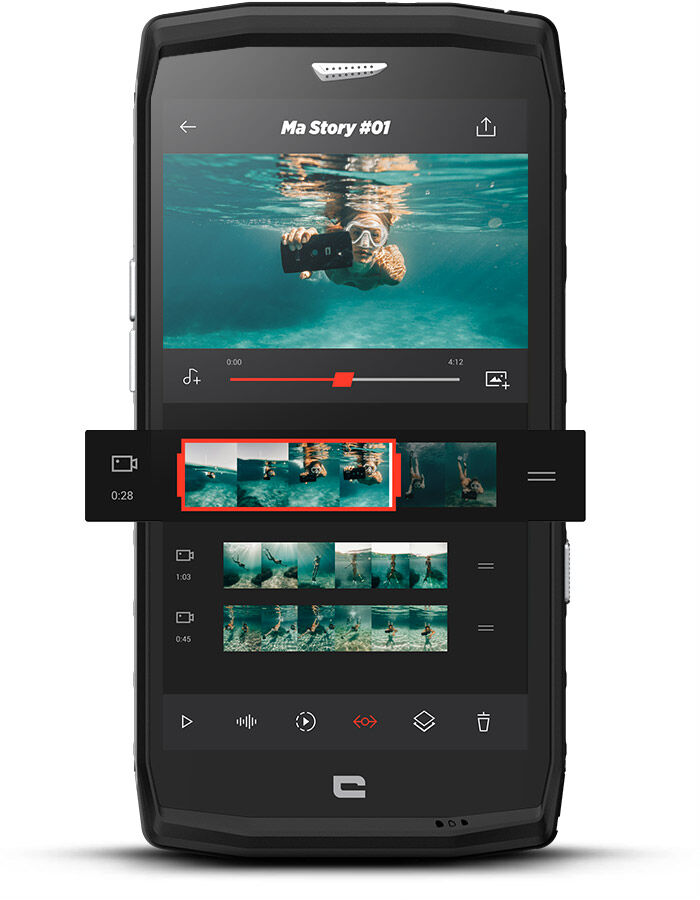 A performance, a record, a feat, there are moments in life that deserve to be seen by all, right here and now. Consequently, the TREKKER-X4 allows you to broadcast your videos live on social media. A simple and immediate way to share the magic of the moment with all your loved ones.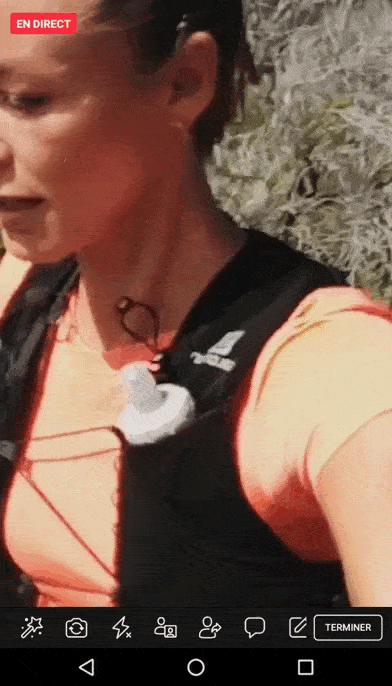 The TREKKER-X4 was designed in partnership with recognised experts in image processing. Performance and image quality have been improved at every step of its development to achieve unprecedented precision. It has excellent photo quality (dual 12 MP LARGE PIXEL) thanks to its dual camera and its ultrafast autofocuses; a hybrid autofocus (PDAF, optimal in high brightness) and a laser autofocus (optimal in low light).
Its full HD resolution (1920 x 1080 pixels) gives it a precision display down to the smallest detail. A 5.5" screen for that is very comfortable to use both when dealing with everyday messages and when appreciating your best videos.
Biometric technology helps secure your phone by giving you the ability to unlock your phone very quickly through fingerprint recognition. A secure, simple and practical solution.
The TREKKER-X4 sports a sleek and sporty design and incorporates the very best features of a wide angle action cam in just 12.85 millimetres of thickness. The curved lines and the sanded aluminium side bars of the smartphone make it easy to handle. Its anodised chamfers are designed for reinforced wear and shock resistance. The light is thus reflected across various surface types, creating a harmonious and attractive interplay between the different materials. The perfect compromise between hard-wearing materials and design, the TREKKER-X4 is ideal both for town use and in the mountains!
X-LINK™
by Magconn Technology
The magnetic connector on the back of your smartphone is designed so you can fix and connect it in one single movement to the exclusive X-LINKTM accessories. As such, you can load and/or transfer data using the OTG function (once attached to compatible accessories). The X-LINKTM also gives you access to a range of accessories specifically designed to enhance the TREKKER-X4 photo/video experience.
EARPHONES IPX6 WATERPROOF